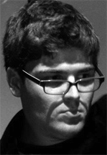 Demian Kappenstein (* 1983 in Rheinbach, NRW) jazz drums and prepared percussions

Kappenstein studied jazz drums, free improvisation and contemporary music with Prof. Günter Baby Sommer from 2004 to 2009 at the Music Academy "Carl Maria von Weber". Since 2009 he is a master student of the renowned drummer Eric Schaefer from Berlin.
Kappenstein worked with musicians such as Rolf Kühn, Markus Stockhausen, Kurt Rosenwinkel, Celine Rudolph, Johannes Bauer and Vincent von Schlippenbach. Tours led him to England, France, the Czech Republic, Poland, Italy and the USA.
Currently, he is part of the formations Ring (piano trio Jazz/World), Vociferous!4 (avant-garde/free improvisation), shortfilmlivemusic (live scoring of short films) ULMAN (world music/urban) und Matar (modern jazz).
His jazz series Feature Ring has been portrayed in various national media (Jazz Zeitung, Jazzpodium, MDR Figaro). For this series, an established artist from the German and international jazz scene is invited every month to be presented in Dresden.