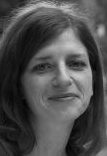 Franziska Richter (*1979 in Dresden), Programme conception & communication with filmmakers

Franziska Richter studied American studies, political sciences and sociology at the TU Dresden from 1997 to 2005. During her studies she spent half a year at the University of Newcastle upon Tyne where she worked as an assistant teacher for German and had a performance in a theatre play written by Brecht. She discovered her passion for cinema and film at the Kino im Kasten, the student's cinema of the TU Dresden. From 2001 she worked there as a film projectionist and was later the manager of the cinema for two years. Since March 2005 she has worked for the AG Kurzfilm, first as an intern, then as a project coordinator. She is responsible for conducting short film programs for festivals in Germany and abroad, overseeing the webpage of the AG Kurzfilm and the short film portal shortfilm.de as well as the coordination of the cinema tour "German Short Film Award".
In 2005 she organized the first shortfilmlivemusic event together with Benjamin Schindler and remained true to the project ever since. With the other ensemble members she developed shortfilmlivemusic further and is in charge of the filmic part of program conception, film scheduling and communicating with copyright holders.