In the context of the Brechtfest Augsburg shortfilmlivemusic dealt for the first time with the genre of poetry films: based on screen adaptions of poems, texts and songs by Bertolt Brecht by various young European filmmakers, the organisers of shortfilmlivemusic developed a programme of different poetry short film representatives.
picture gallery of the premiere
Press: Articel about the evening in the NMZ online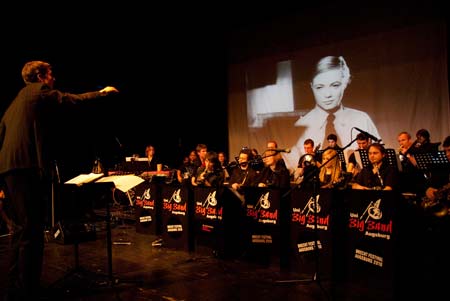 Among those are animations, fictions and experimental films which deal with diverse aspects of Brecht's work. In the three-seconds long film pieces "Mack the Knife to sing-along" and "Buccaneer Jenny to sing-along" we find, for example, direct associations with the song lyrics. "Das Einfache, das schwer zu machen ist" (dir: Leif Heanzo) is a filmic version of the song "Lob des Kommunismus" by Hanns Eisler (music) and Brecht (lyrics). "Mozes – You can" is a hommage to Brecht's poem "Kinderkreuzzug 1939". In "Johnny's Mouth" we discover the truth about Surabaya-Johnny's mouth, in "dialogue with b." the "Gesang von einer Geliebten" sounds as a cinematic poem. "Gedanken eines Revuemädchens" by the young director Sarah Stührenberg portrays the poem sensitively without a wagging finger and the "Chinesischer Teewurzellöwe" has never been seen like this before. The evening was imbedded in the film "Kuhle Wampe or Who Owns the World?", for which the script was written by Bertolt Brecht in 1932 – and, of course, the music of shortfilmlivemusic. This time, the big band of the Augsburg University, for the first time directed by the shortfilmlivemusic ensemble, joined the band. In the course of a three-day workshop, the new film scores were developed and the ensemble's sound experienced a projection into orchestral big-band spheres.
The project was developed in cooperation with the Office for Pop Culture Augsburg and the new music network "More Music! Augsburg". shortfilmlivemusic were supported by the ZEBRA Poetry Film Festival Berlin, the AG Kurzfilm as well as the Slovakian Film Institute in selecting the films.